About Phoenix SEAGAIA resort :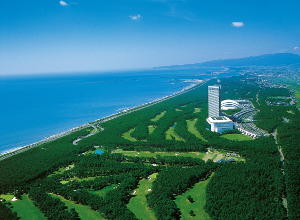 Phoenix SEAGAIA resort is resort complex includes hotels, golf courses, restaurants, shops and bars. You can enjoy various activities such as horse riding, cycling, Nordic walking, playing in the ocean, etc. The YABEC 2016 venue is SEAGAIA International Convention Center, where numerous large-scale domestic conferences and international conferences including the Kyushu-Okinawa Summit 2000 Miyazaki Meeting of Foreign Ministers, have been held. In addition to the summit hall seating upto 5,000 people, it also features convention facilities of various sizes.
About Miyazaki Prefecture :
Miyazaki Prefecture locates in the east area of Kyushu Island Japan. The prefecture occupies an area of 7,736 km2, which represents 2% of Japan's total area, and incudes 9 cities and 3 villages. Forest occupies 75.9% of prefecture's area (5,873 km2). The population of the prefecture stands at 1,135,000 (based on 2010 statistics), which represents 0.9% of the national population.
Climate categorize in semi-tropical climate. Average temperature is 17.4°C, 52.7 clear days per year recorded by Japan Meteoro logical Agency data (Miyazaki city from 1981-2010).
In agriculture, Hyuga-Natsu mandarin orange, cucumber, and eddoe occupy top share in Japan. Broiler chicken and brand-beef, "Miyazaki-gyu", are also famous in animal industry. Recently, reared sturgeon became successful common place in market by a fish farmer of Miyazaki at first in Japan. These foodstuffs will dress the dishes served in Miyazaki's restaurants and bars.
A luxuriant forest and nature provide you chances to meet excellent experiences. Please get more detail information to access the following address.