Aya Town and "Teruha-Oh-Tsuribasi"
Aya Town is home to Japan's largest evergreen forest. It has a total area of 1,748 hectares, and consists of evergreen trees such as oaks and camellias. There is "Teruha-Oh-Tsuribashi", the secondly highest cable suspension bridge for foot passengers in Japan. The height and length are 142 m and 250 m, respectively. The bridge provides you an excellent viewpoint of the evergreen forest. At the middle of bridge, you can have a thrilling view under your feet through mesh.
Shusen-no-Mori (a Shochu theme park)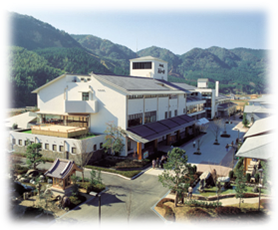 This theme park was established by a Japanese distilled spirit (Shochu) manufacture, Unkai Shuzou. You may enjoy tasting Shochu and local beer. In the excursion, you can see a manufacture process of Japanese Shochu.